Description of the boat and cabins


The Motorvessel Skorpios II was built in 1988 in the Skorpios shipyards and it has a length of 70 meters, a width of 10 meters and a fret of 2.87 meters. It has a capacity for up to 130 passengers, distributed in 55 comfortable cabins in 5 decks. They are all vested with fine woods and have private bathrooms, plasma TV, background music, etc. All cabins have windows, except the ones on the Atenas deck.
It has a main dining room, the Quitralco Lounge (smoking) and the San Rafael Bar (non-smoking) will provide you with comfort to share those pleasant moments of rest.

Deck distribution:

Cabins:

Suite Master Olympo

Suite Junior Olympo


Matrimonial Cabin Athos

Matrimonial Cabin Olympo


Parthenon Cabin, 2 beds 135 cms. wide

Acrópolis Cabin, 2 beds 135 cms. wide


Athenas cabin, without window;
2 beds 135 cms. wide


Bathroom in M/V Skorpios II

How to make a reservation
In TravelAid we can take your reservation with the following information:

-Full name
-Nationality
-Passport number
-Date of birth
All images: Copyright by Skorpios.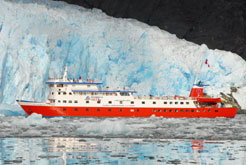 M/V Skorpios II in Laguna San Rafael

Dining Room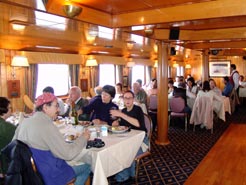 Lunch

San Rafael Bar

San Rafael Bar

Quitralco Lounge

Open bar during the whole journey

First class gastronomy