Description of the boat and cabins
Navimag is building a new ferry called "Esperanza" to offer their passengers a better experience while travelling through the Patagonian Fjords. This modern ship will be start working on season 2020-2021.
It has space for 244 passengers and offers a cafetería, dining room, a room for activities, infirmary, 3 exterior decks and a cabin for handicapped people.

The new Ferry Esperanza has 7 categories of accommodation for different needs, from 2 up to 8 passengers. There is 1 Premium cabin with queen bed and panoramic window and 1 cabin for handicapped people.
All cabins have bathroom and showers inside.
Ferry ESPERANZA
Cabin
Nº of Cabins
Nº of Beds
Bathroom
Window
Premium

1

Queen

Privat

Panoramic

AAA

2

2

Privat

Yes

AA

26

4

Privat

Sí

A

6

4

Privat

No

CC

2

6

Privat

No

CC

12

8

Privat

No

Handicapped

1

2

Privat

Si

Dining Room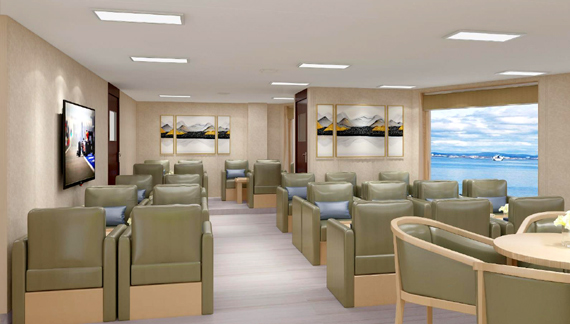 Cafetería

Cabin CC
How to make a reservation:
In TravelAid we can make your reservation with the following information:

-Full name
-Nationality
-Passport number
-Date of birth

If you are travelling by car:
-Type of vehicle, brand, model and licence number

Model Ferry Esperanza

Model Ferry Esperanza

Model Ferry Esperanza

Model Ferry Esperanza

Dining Room

Dining Room

Cafetería

Cafetería

Cabin AA

Cabin AA
Cabin CC for 8 passengers