PUERTO MONTT -> FIORDO QUINTUPEU -> PUERTO MONTT
Skorpios, 2 days, luxury weekend cruise, from US$ 250
In winter (from May to August), Skorpios use their ships offering a weekend cruise from Puerto Montt to the Quintupeu fjord, including visits to the hot springs of Llancahue and the small town of Río Negro, also known as Hornopirén. It is a good opportunity to get to know at a more accessible cost the "world of Skorpios", the pioneers of touristic cruises in Chile.
Season 2015 ended on October 10th.
The next season will start in May 2016.
New rates and reseravtions will be available in March.
Itinerary
Saturday:
12.00 hrs: Set sail from the Skorpios' Terminal located in Chinquihue km 6. Navigation through Llanquihue's Archipelago and Queullin's Pass. Then we will visit Llancahue Hot Springs, continuing navigation, to arrive to Quintupeu Fjord at 20.00 hrs., place where the German ship "Dresden" dropped anchor in World War I.
Sunday:
Navigation through Hornopirén Channel, disembark at Río Negro village for a visit. Cross of Ancud Gulf and pass through Guar and Mallén Channels, ending our cruise at Skorpios' Terminal at 18.00.
Attractions:
The beautiful Quintupeu Fjord is located south of Puerto Montt. This place is where the German Ship "SMS Dresden" hid during the Malvinas Battle in the year 1915. The Fjord has a narrow entry and in its natural walls of 600 mts. high, long water falls and alerce trees can bee seen. Some of these trees can have up to 3.600 years of age and they are surrounded by flowers and other species, such as copihue, tepas, ulmos and lengas in the highest areas and here nature gives us an amazing view with volcanoes as the Yates and Hornopiren. The estuary and cliffs' view is something impressive, unforgettable and touching.
The Llancahué hot springs are located in the same named island, south of the Ciervo's Island. This hot springs have covered and open air swimming pools and they offer also a fascinating opportunity: take a bath in the Pacific Ocean, where its waters lessens the temperature. From this place we will have an exceptional view of the Llanchid Archipelago at sunset.
We will also visit the Rio Negro town, a peaceful and quaint village of this area. Its wooden houses, made of alerce's shingles, have shade colors that contrast gladly with the green vegetation of the place. In this village you will be able to walk down their streets.
The whole area is known because of the presence of Andean Glaciers and geological faults that conduced to the glacier erosion. Get on board and enjoy this weekend Cruise, were gastronomy and the landscape will be at your service.
Have fun onboard Skorpios.
Dates
This cruise is offered during winter, from May to August. Sometimes, there are also trips in spring, from September to November. Departures on Saturdays, returning on Sundays.

Puerto Montt -> Fiordo Quintupeu -> Puerto Montt
Saturday
12:00 hrs.
Set sail from Puerto Montt, lunch
17:00 hrs.
Tea time
21:00 hrs.
Dinner and Dancing Party
Sunday
09:00 hrs.
Breakfast
12:45 hrs.
Lunch (Skorpios' style "Curanto")
16:30 hrs.
Tea time
17:45 hrs.
Arrive at Puerto Montt. End of cruise

Note: This schedule is aproximate and may have some changes due to weather conditions and/or cargo needs.
Boats
This route is covered by the ships Skorpios II and III with a capacity for 130 and 110 passengers. According to the demand, both ships can set sail or only one of them. Some dates can get cancelled due lack of passengers.
For pictures and description of Skorpios II >

For pictures and description of Skorpios III >
| | |
| --- | --- |
| Boat's Characteristics | Skorpios II & III |
| length | 70 mts. |
| width | 10 mts. |
| Passenger capacity | 130 & 110 |
Cabins
All cabins are fully equiped and decorated. They have private bathroom, music, intercom and TV. The cabins are distributed in five decks, with a varity of prices depending the facilities and the location within the ship. All cabins have windows, except the ones on the Atenas deck.
Prices
Rates in Chilean Pesos
The prices are per person according to the cabins double, triple or quadruple. The price includes full board, open bar and etrance fee to the hot springs.

Rates in Skorpios II - May to August 2015
Decks / Cabins

Atenas

Acrópolis

Parthenon

Olympo

Athos

Double internal

155.000

Double external

175.000

175.000

Triple

155.000

175.000

175.000

Double Matrimonial

185.000

185.000

Suite Junior

195.000

Suite Master

210.000

For pictures and description of Skorpios II >
Rates in Skorpios III - May to August 2015
Decks / Cabins

Atenas

Acrópolis

Parthenon

Olympo

Athos

Double internal

175.000

Double external

195.000

195.000

195.000

Triple / Cuadruple

175.000

195.000

195.000

Double Matrimonial

210.000

Suite Junior

220.000

Suite Master

235.000

For pictures and description of Skorpios III >
Children fares
1 to 3 years old

Free sharing bed with the parents

4 to 11 years old

Pay 60% of fare, sharing cabin with the parents

From 12 years old

Full Price
How to make a reservation:
In TravelAid we can take your reservation with the following information:

-Full name
-Nationality
-Passport number
-Date of birth
All images: Copyright by Skorpios.

Skorpios III in front of the Quintupeu fiord

Narrow entry of the fiord

One of the many cascades in the fiord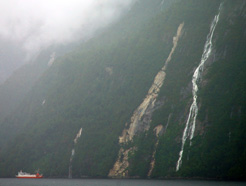 The steep walls of the Quintupeu fiord ore covered by lush vegetation

Skorpios II with the Hornopirén volcano

Disembarking at Río Negro

Relaxing thermal bath in th hot springs of Llancahue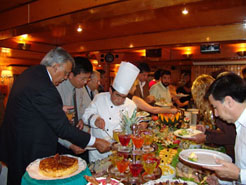 The famous Skorpios buffet

Wide selection for every taste

Seafood specialities